With its practical, trendy, and lightweight design, the Crystal Pro Max 4000 box of 10 Hayati  Disposable Vape presents itself as an excellent choice. This disposable electronic cigarette features a built-in 650mAh battery, ensuring a dependable power source. The availability of the Crystal Pro Max disposable pod in various flavors allows you to savor a consistently enjoyable vaping experience. Its stable power output and uniform flavor delivery system ensure a gratifying vape session on every occasion. Whether you seek a convenient option for a night out or are venturing into vaping for the first time, the Crystal Pro Max is a fantastic gadget to have within reach.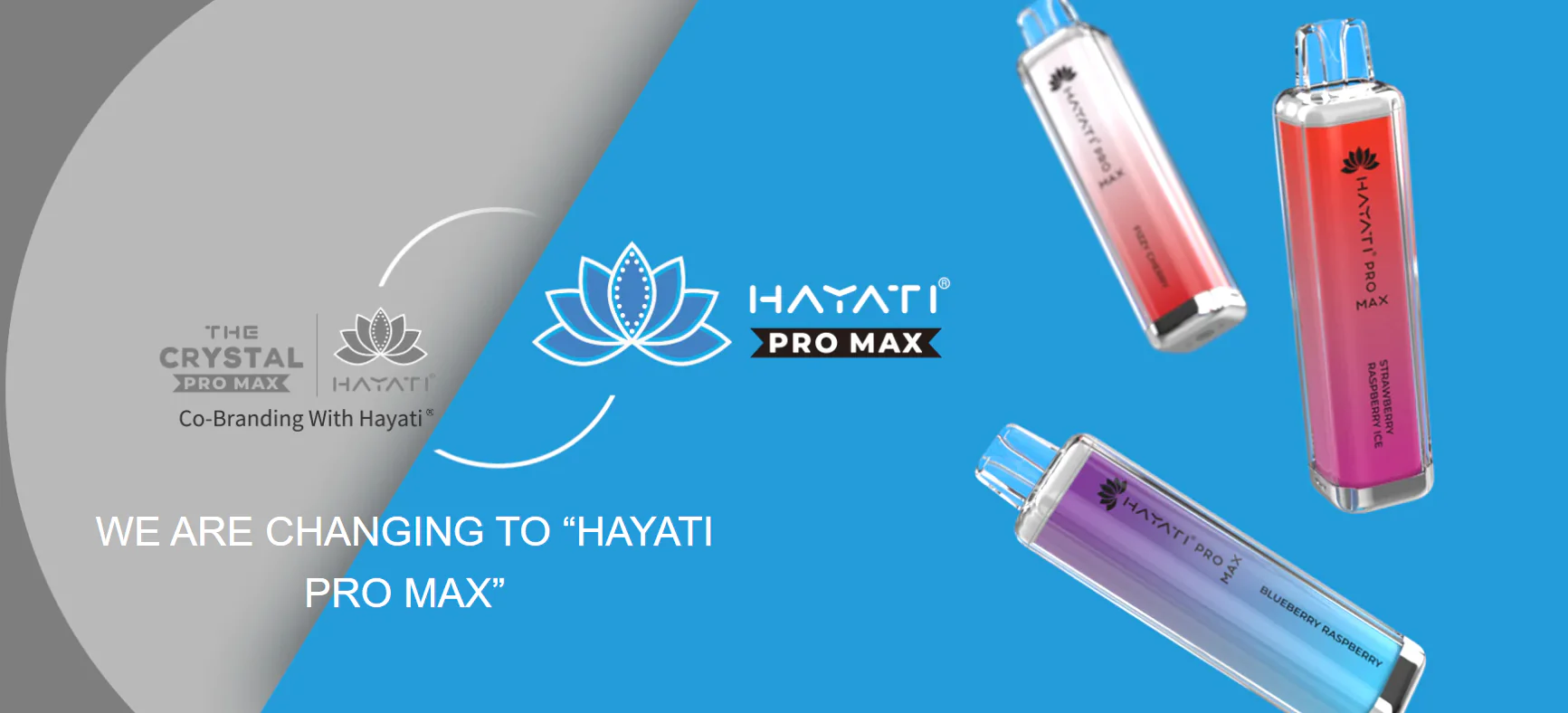 The Crystal Pro Max 4000 box of 10 Hayati offers a diverse selection of delightful flavors, such as strawberry mojito, strawberry raspberry ice, banana ice, berry lemonade, blue razz cherry, blue razz lemonade, blue sour raspberry, blueberry cherry cranberry, blueberry raspberry, cherry cola, cola lime, fizzy cherry, fresh mint, juicy peach, lemon & lime, lemon peach passionfruit, and mad blue.

The Crystal Pro Max 4000 box of 10 Hayati operates on a draw-activation system, meaning it begins vaping when you take a puff without the need for pressing any buttons. This user-friendly design makes it an ideal choice for vapers seeking a hassle-free and flavorful vaping experience. It's also a suitable option for beginners in the vaping world, thanks to its simplicity and ease of use.
Important: Beware of fake versions of this product in the UK market. Look for the "Hayati Logo" and verify your purchase on the Crystal Vapes Official website.
Flavours
Skittles
Mr Blue
Mr Pink
Banana Ice
Blue Fusion
Fresh Mint
Cherry Cola
Cola Lime
Vimbull Ice
Fizzy Cherry
Mad Blue
Juicy Peach
Vimbull Ice
Gummy Bear
Sakura Grape
Red Apple Ice
Triple Mango
Lemon & Lime
Cream Tobacco
Prime Ice Pop
Pink Lemonade
Strawberry Kiwi
Watermelon Ice
Berry Lemonade
Summer Dream
Blue Razz Cherry
Bluberry Raspberry
Blue Sour Raspberry
Blue Razz Lemonade
Strawberry Raspberry Ice
Bluberry Cherry Cranberry
Feature
Up to 4000 puffs
Variety of delicious flavors
Compact and portable design
10mL pre-filled pod
Draw-activated firing mechanism
Package Content
10 x Crystal Pro Max 4000 ( Hayati)
For more information about Disposable Vapes we highly recommend you read our Ultimate Guide to Disposable Vapes.